Went out for a cruise in the new car with a couple of friends. Being it's mardi gras season around here, there are alot of nice cars out and about. We all pulled over at a parking lot to talk and take break (they were on bikes). We were talking for a little while when we spotted a orange 300zx at the light. Some of the guys that were with me know him and called him over to ask for a run. He accepted and we proceeded to the out of the parking lot and only got a short run in due to traffic. The vid was taken by an i-phone so sorry for the quality and shortness. The chase car is a honda accord lol.
Ooo.. and my car is full exaust and lid m6 car. The 300zxtt, Is on stock turbos, boost controller (not sure on how much he was running), full exaust,tune and is a manual as well.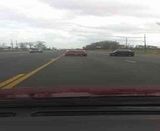 The race was from 35-100 with my car having loads of wheel hop.
I now have bmr lower control arms and panhard bar, and I just ordered a umi torque arm.
I want to get a nice video camera and im taking suggestions on which one to get.
As we speak I am trying to download pics and make a thread in the multimedia section on the car.
Thanks guys take it easy on me. lol