Year: 1986
Make: Oldsmobile
Model: Cutlass Supreme
Price: $4000
Mileage: 88000
Private or Dealer Listing: Private Listing
Location (State): OH
Color: Green
Transmission: Automatic
Drivetrain: Rear Wheel Drive
LS Engine?: Car has other engine

I just got this car about a month ago with grand plans of building a pro touring Cutlass, but I don't have the time or money right now. I'd like to buy some stuff for my GTO and still have some money left over for a winter beater.
The car has a 307 Olds and a 200R trans. Green on green on green, new suede headliner. The car has just about every option except the overdrive trans. Power everything, ice cold AC. The car is throwing a CEL, I think it may need a MAP sensor, but it starts first crank and runs perfect, so I didn't bother with that at all. 88k original miles. Paint is very nice. The only rust is on the inside pinch weld on the bottom of the doors, pretty common for G bodies i'm told. Brand new tires, Edlebrock shocks all around. I have a whole bunch of extra parts to go with it. An overdrive 200R4, a rear end with 3.23 gears, QA1 anti hop bars, some other stuff like extra green interior trim in a box.
I'm asking $4000, but i'm open to any and all offers. If you have some LS parts, perhaps we can do a partial trade for some parts. Clear Ohio title in my name.
I'd drive this thing anywhere. I love driving it, but i'd rather put a cam in the GTO and buy a beater.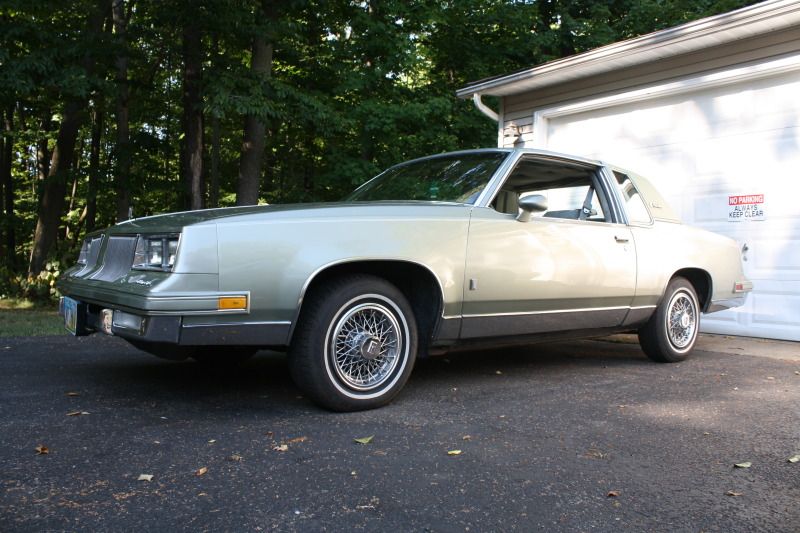 I'll add a few more pictures when I pull it out of the garage tomorrow.