On wed my hood from VFN came in and i installed it on my car, after we were done installing it we realized the torque of my car(not solid mounts) is ripping the welds on my exhaust hangers so we re welded it and called summit and ordered solid motor/tranny mounts.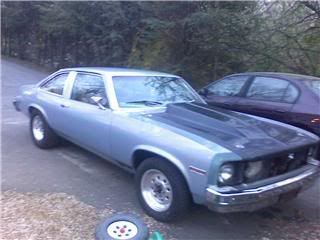 that is how it looks now

me and my buddy decided to go out and have a lil fun, lets just say my 481 CI got beat by a 406 ci due to traction issues. We staged up and went for it the car killed the tires all the way threw all 3 gears. so we went from a 30 mph roll, still broke them loose till mid 3rd then caught and passed him like he was sitting still. then my buddys alternator gave out and we had to head back home, we decided to stop and do a smoke show, needless to say the car got very shitty when lettin off the brake and i had so much fun

im waitin for him to send the pic from his car of the smoke show, you cant even see from the back of my doors back, it was awsome.