Flyenlow Stage 3.5: Some more refinement

01-04-2017, 07:46 AM
12 Second Club
Join Date: Nov 2005
Location: Huntersville, NC
Posts: 2,683

Flyenlow Stage 3.5: Some more refinement
---
I got the itch to work on the car a little now that it's going into the winter. I've been wanting to solve some exhaust issues, leaking/scraping/etc, and decided it's time to do something about it. Upgrade time. I'll be swapping out my JetHot coated flanged connected 1 3/4" headers and 3" ORY for a set of slip fit XS Power stepped 1 3/4"-1 7/8" headers. I thought the XS Power y-pipe was junk and seeing as I saw others were having issues with shipping and fitment, I decided to go with a KOOKS ORY and modify as needed, while routing it into my GMMG. The JetHot headers have done me well, but are lacking in updated design. I like the fact that the XS headers have the velocity merge and spike, also the KOOKS updated Y-pipe design is quite beautiful. I'm very interested to see what kind of gains I'll see with the combination of the two.
At the same time, I decided it was time to address some cooling issues that I have always dealt with. My car consistently runs at 190*-215*. I know that's not necessarily high, but I have NOTHING in the engine bay, no condenser in front of the radiator and an EWP, so I've always thought it was high. Recently after working on a customers car I built last year, he told me his car barley gets above 180* even with the AC on and sitting in traffic. Granted he has a larger radiator, but the car has nothing deleted, full weight car with AC and is ProCharged and I just though it was crazy this car sat lower then mine. SO I decided to upgrade again of course.
After 9 years of duty my CSR electric pump I think finally gave up the ghost. After doing a bit of research I found it was only rated at 30-37 gpm initially, so I decided to get a Meziere HD that flows 55 gpm. My shop also has a plasma table so I fabbed a custom shroud for the radiator as well, with some SPAL fans. Hopefully this combination with net some cooler temps.
I also decided while I had everything off I'd waste money on more shiny bolts...
XS Power headers
Outdated ORY vs Kooks new design with true merge
Meziere vs CSR
new shroud with dual 12" SPAL
ARP 12 point hardware
self explanitory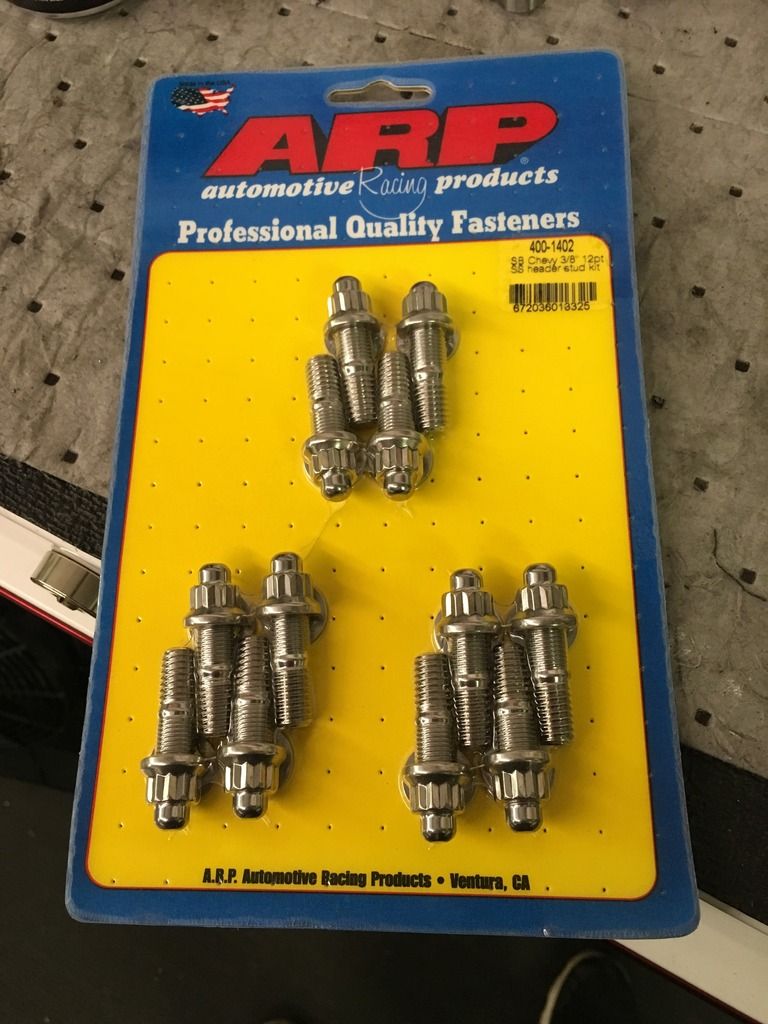 Dyno Comparison: I plan to bring the car to the shop and initially run a few baseline pulls. Then I'll swap out the exhaust and see what kind of gains it makes. I don't think the cooling stuff will play in any factor but I could be wrong. I'll keep this post updated as progress continues. Unless weather gets the best of me I hope to knock it out sometime in the next week or two.

01-04-2017, 07:56 AM
12 Second Club
Join Date: Nov 2005
Location: Huntersville, NC
Posts: 2,683

---
I figured I wasn't going to start until this weekend or next, but I got a wild hair up my *** and went and got the car and threw it on the rollers last night. Made 3 pulls. 1st pull 419hp/395tq, 2nd pull 423hp/396tq, 3rd pull 425hp/397tq. I'd say that's a pretty consistent baseline. I tore all the old stuff off, did some cleaning and then starting putting everything back on. I'll hopefully finish tonight.

01-04-2017, 02:24 PM

---
In for the results. I'd like to see how the exhaust helps. At those power levels (I'm similar), I'm under the impression the single 3" is choking it. I'm not sure the stepped headers will help much, but that y-pipe should help. It's all speculation of course.

01-04-2017, 04:50 PM
TECH Veteran
Join Date: Apr 2008
Posts: 4,034

---
Have had my Meziere HD on for 17 years and about 90k mi, still working

Built motors, higher compression they run hotter than a stock LT1. I assume you have had your fan "on" temps lowered in programming the PCM

I only make about 400 rwhp but do have a Aluminum 2 core radiator, stock electric fans and my temps sit a 180-185. When its 110+ out in stop & go traffic they creep up to about 190-200 but drop right back down once the car gets more open road.

The EWP flows constant rate. IDK at what point (RPM) the mechanical flow more but I believe a EWP out flows a mechanical in city driving RPM range. With that said when I drive 80+ MPH from Vegas in 118+ heat the car still runs 180ish on the FWY.

01-04-2017, 06:05 PM
On The Tree
Join Date: Jan 2012
Location: Lincolnton, NC
Posts: 101

---
Looks good Travis. I'm glad to see the car still working. Looking forward to seeing the results.

01-05-2017, 07:58 AM
12 Second Club
Join Date: Nov 2005
Location: Huntersville, NC
Posts: 2,683

---
Originally, my plan was to custom fab the y-pipe. I was going to go 3" into a 4" merge with a cutout and then neck down to 3" over the axle and into the GMMG. After comparing what I'd have in material and cutout/etc, also time, I just concluded the gain wouldn't be worth it. Cost alone was TWICE the amount I paid for the Kooks ORY. I just couldn't justify it. I'm most curious about low end gains. Theoretically the stepped and velocity merge should help a decent amount. Even if I gained 10rwtq down low and netted minimal gains up top, I'd be fine with it.
******: Yea, the motors got a 11.8:1 CR and I've got the fans coming on at lower temps. It's just always bugged me.
BANSHE5: You know it bud. Learned from the best.

01-16-2017, 11:35 AM
12 Second Club
Join Date: Nov 2005
Location: Huntersville, NC
Posts: 2,683

---
Update: Got everything installed.

The headers, for what they cost are nice. Had to do a bit of clearancing around the k-member and frame rail. Also, around the primaries/header flange, I attribute that to the fact that I went with head studs though. I have to take the drivers side back off to clearance for steering shaft as well, I did the LS1 shaft upgrade so I'm unsure if the mid section is larger in diameter then the LT1 shaft, but it just sits on it and rubs.

The Y-pipe I knew was going to take some modification, but honestly it wasn't that bad at all. Small bit of trimming and I cut a small pie cut in the tops to angle the entire pipe a bit more. Also, had to lengthen the intermediate pipe because my old y-pipe was a bit longer, no big deal.

During the process I also installed a V-clamp where the intermediate went over the axle. It'll make it easier to remove/install later.

The WP and new shroud work and look awesome as well. Will have some dyno numbers soon.

04-18-2017, 09:21 AM
12 Second Club
Join Date: Nov 2005
Location: Huntersville, NC
Posts: 2,683

---
Update 2.
Honestly I've put off writing this because of how irritating it all was. I ended up taking the headers in and out 3 times per side just to clearance, and I still need to do it again.
Also, they hang lower then my hooker/Jethot setup did. So I LOST ground clearance.
Finally I LOST power from 4500-6k. Granted not a lot, but enough that the entire process was a fail IMO, probably just my overwhelming frustration. I attribute the loss to the merge and maybe the slowed exhaust velocity because of the stepped pipes. The merge necks down from 3" to under 2.4", overall the header quality and welds are nice, fitment was super frustrating but you get what you pay for.
In the end I'm going to raise the car(planning on a new suspension setup) and then remove the headers one last time, weld in a new velocity merge, and slap them back in. I plan on boost in the future so I want all the size I can get.
In closing: the fan setup came out awesome. Car hasn't hit 180* since installed. On to the next stage of the project.

04-21-2017, 01:57 PM
TECH Fanatic
Join Date: Feb 2012
Posts: 1,971

---
I love the Y merge I made. I have no proof of gains since false knock is keeping me from making a full pull.

04-30-2017, 09:48 PM
TECH Junkie
Join Date: Jan 2006
Location: LA$ VEGA$
Posts: 3,786

---
I would have to see a difference at the track before claiming failure.
Just by the looks of the dyno run i personally, would say the new exhaust would really be a benifit if you were a N2O or a blower set up. No matter what get to the track and base your decision upon past time slips to see where you lost some and gained some it may just be a wash..
Thread
Thread Starter
Forum
Replies
Last Post