Year: 2004
Make: AM General
Model: H1
Price: $12500
Mileage: 26147
Private or Dealer Listing: Private Listing
Location (State): WV
Color: Black

This is a 2004 Harley Davidson Heritage Softtail with many, many extras including exhaust, and just about every chrome piece you can think of offered by Harley. The bike has won multible shows. The only reason for selling this beautiful bike is I bought a 2012 Road Glide Custom for my wife and I to ride on the long trips we take. I will try and list as many things as possible, but the pictures will say more about the bike than I can.
here is a small list of things done to the bike:
Detachable Winshield
Chrome Swing Arm
Chrome Forks
Chrome Front Rotor
Braided Brake Lines
Hypercharger
All Chrome Controls
The list of chrome goes on beyond what I can listů...
New Rear Tire (1500 miles on tire)
Python Pipes
Total of aftermarket parts is close to $6,000
The only flaw on the bike is the very small hole on the seat you would never notice it unless you took your eyes off all the chrome this bike has.
Asking Price is $12,500
Please call 304-360-6733, or 304-736-3599 for questions regarding the bike,
Dave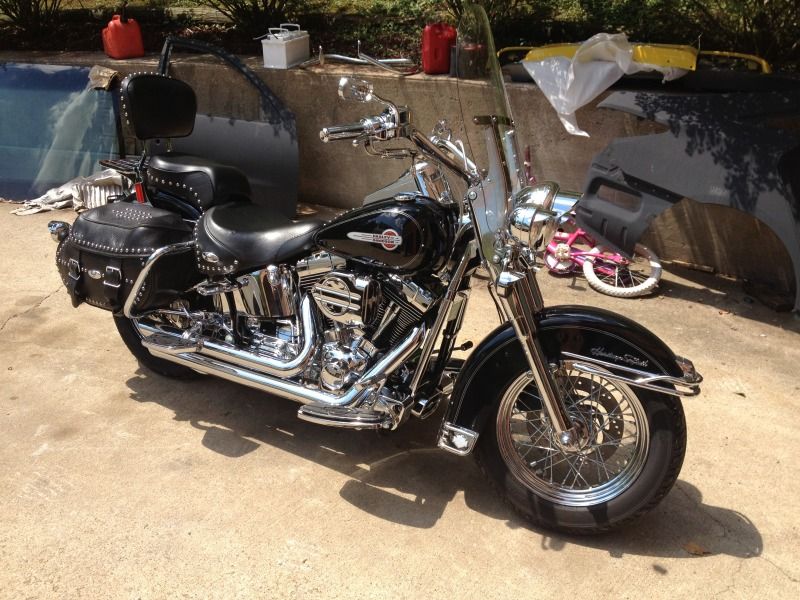 Here is a Album with 20 more photos
http://s103.photobucket.com/albums/m...2004%20Harley/