Wastegate sizing question

07-11-2018, 11:31 PM

Wastegate sizing question
---
Iíve been searching around trying to get an answer to a simple question. So Iím in the middle of a single turbo build on my 5.7 gto. Iím almost done building the turbo manifold and Iím left with not much room for the 50mm wastegate I have. Really it wonít fit. Could I get away with a 44mm?

On3 7875 turbo
ported 243ís
227/234 113lsa cam
5.7

my thoughts are because Iím not running a ďturbo camĒ per se, it may bleed off enough boost. Iím wanting 4-6psi to begin with and maybe 8psi max. Until I change the rods and pistons that is. Thoughts?

07-12-2018, 12:41 AM
Teching In
Join Date: Mar 2018
Posts: 17

---
A friend of mine is using a 46mm wg on 10psi , exact same turbo . And if you look at huron speed turbo kits, the option to choose a wg is a 44mm on a 7875 turbo as well. But it depends more about the design of the hot side and position of the wg to not have boost creep.

07-12-2018, 08:11 AM

---
thx for the reply. I planned on putting the wastegate in the 90 that goes to the turbo so the exhaust runs right into it. Right here: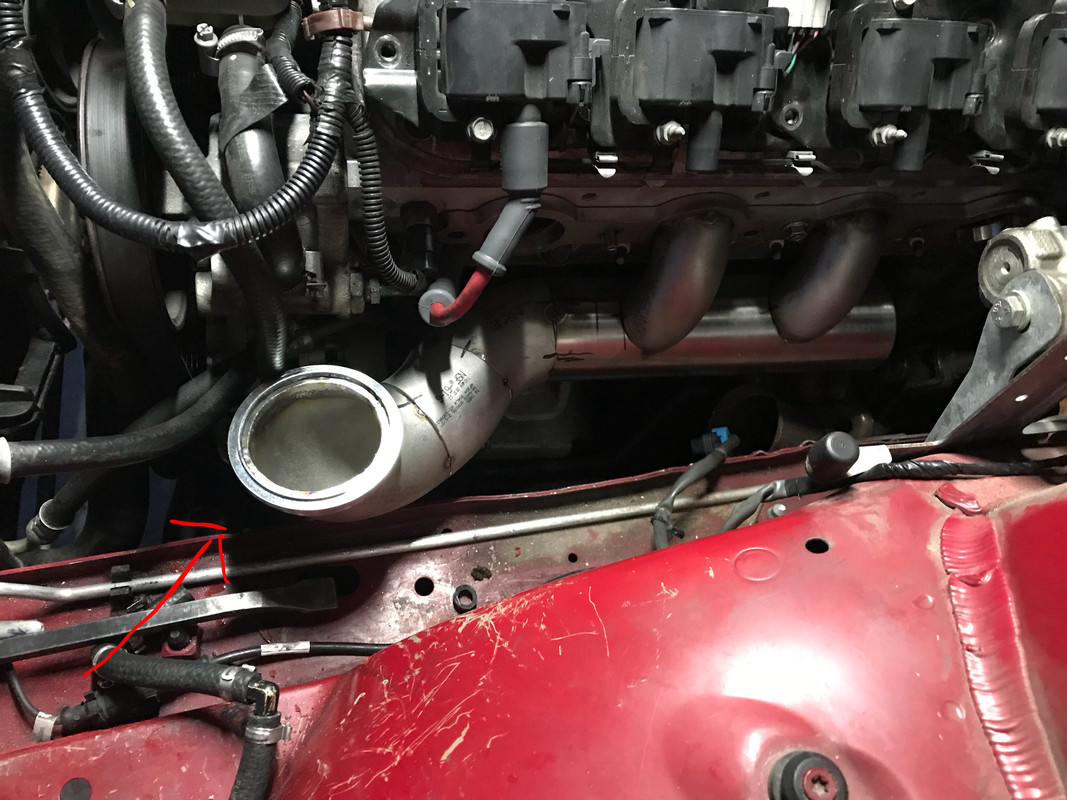 07-12-2018, 09:36 AM
TECH Fanatic
Join Date: Nov 2015
Posts: 1,238

---
I run a ebay HKS 60mm knock off that came with my CX kit 78/75 VS turbo, Ive run it as low as 6psi but I'm typically in the 10-12psi range with the EBC. Im ditching the shitty HKS clone and I just ordered a VS 44mm tial clone. The 44mm should be fine. 60m is overkill and a 38mm might limit you on how low you can adjust.

07-12-2018, 01:05 PM
On The Tree
Join Date: Jan 2018
Posts: 148

---
at your target boost you'll be fine.

with that small turbine if you turn it up one thing to consider...

as manifolds build pressure because the turbine is choking it will act against the gate effectively weakening your spring.

force is equal to pressure over area. an exhaust manifold or drive pressure of 15psi acting on a 60mm gate will push it open sooner than the same pressure on a 44mm gate. bigger gate may require more spring to maintain boost when you're at your turbine flow limits

07-12-2018, 03:02 PM

---
One more question if you guys don't mind. So I had planned on a 3" down pipe out of my turbo and tying in to my dual 2.5" exhaust for now. However, inbetween the frame and my log manifold I only have a 2.9" gap so a 3" pipe won't fit. My options were:
1) neck down to a 2.5" for maybe 8" then back to 3"
2) flatten the pipe and probably end up with the same flow as the 2.5 but not as smooth
3) buy some oval tubing which would be quite expensive

so would it kill my power to neck it to 2.5" for a little bit? Thx

07-12-2018, 03:23 PM
On The Tree
Join Date: Jan 2018
Posts: 148

---
you want to stay the same diameter at your turbine housing outlet for at least the dump. with no cat the gasses will have cooled by the end of the dump reducing their volume requiring exhaust area to accommodate flow.

best bet would be merge it to a twin 2 or 2.5 to pass that area. with exhaust flow you need to consider area as opposed to diameter.

3 inch pipe has surface area of 7in square. twin 2 inch has combined area of 12.5in square. effectively meaning its area and volume is 80% larger

07-13-2018, 09:56 AM
TECH Enthusiast
Join Date: Mar 2013
Location: Washington
Posts: 690

---
Also running a Tial 44mm on my 5.7 w/ ported 317's on an older V1 style Huron Speed kit at 12 lbs. with a T7875 turbo.
The wastegate placement also isn't ideal based on what I've seen and researched but boost creep isn't an issue.